First off, a new picture of me, this is in me and Chucks bedroom, where the bassinet will be. We decorated the wall above it with little animals, you can see one in the picture and we have a matching lamp with mobile too, also pictured.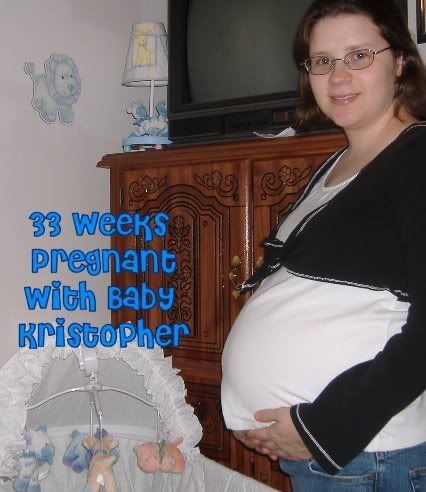 Other news:

Kailey is home sick today. She has been throwing up since 3am this morning. So Cassie was 20 minutes late this morning for school. Kailey is sitting on the couch watching Dora the Explorer with a trashcan next to her, just in case!!! She hasn't made it to the bathroom twice already and that has NOT been fun cleaning up on my hands and knees with a big ol' belly in the way. Chuck has gone to the grocery store by himself, since I'm having to stay home with ms. Kailey. I hope she is better by tomorrow so she doesn't miss to much school! Oh and a update on Kailey writing her name...she is getting VERY GOOD at it!!!

Cassie is doing fine. Cassie's school pictures were taken last week and i'm very upset about the whole thing. Some kid hit her between the eyes, right on the top of her nose, during lunch time with his lunch tray. Then they went outside to play. All BEFORE pictures were taken. So she will probably have a lovely red nose and hair all in her face because it fell down while playing outside. I'll never understand some teachers and their plans before picture time.

CJ is doing okay. He is sleeping right now. He is still in his terrible twos EARLY! I hope it doesn't last until he is 3 or 4, I might be grey headed by then! He loves to write on those magnectic boards, which is wonderful for his little hands and great practice, he might be an artist one day!

Well thats all for now...I'll update more another time. Love you all!