This weekend was our Girl Scouts Fall Jamboree. Here are some pictures of Cassie during one of her Brownie meetings making her Lantern and Sit-Upon for the event. The last picture is of her troop together.




We had alot of fun. We played a ton of games. They made Tye-dye T-Shirts, Paper Plate Ghosts for Halloween, Learned how to use a Compass, Learned how to use a Knife correctly, and learned how to build a fire safetly. I even learned a thing or two. We ate hotdogs for lunch and speg. and meatballs for supper. We sat around a huge campfire once it got dark and sang a million songs. We all smelled like a fireplace afterwards. We got rained on about 3 different times and we all got tired really fast. But we hung in there and had a total blast! I so enjoyed spending time with the girls. Here are some pictures:

Cassie is in front, she was Ms. Fox...was a really fun game. I pointed to Kailey in the back!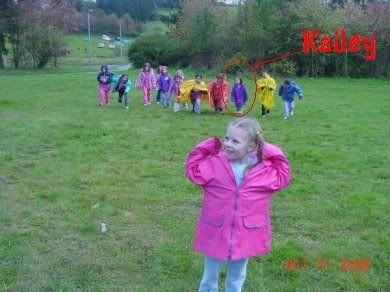 Here is both of them inside a tent helping make the fruit salad: